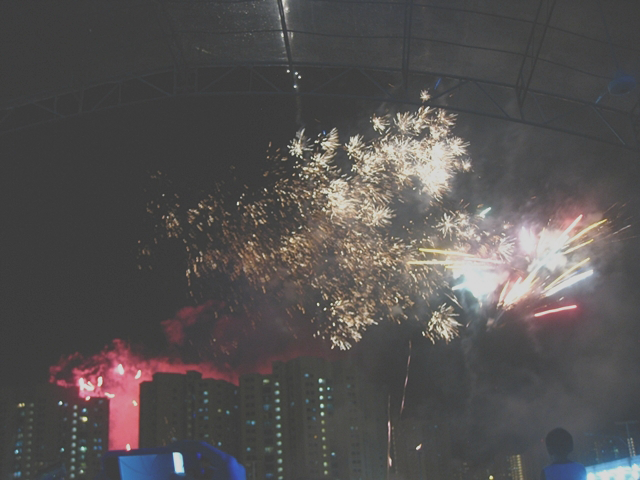 fail fireworks shot, lol. idk if anyone actually still bothers to read my already dead journal but, happy new year to the souls that do, hah. it's been a while since a proper entry was last posted. i partly blamed twitter for the disappearance from here.
anyway, it's already 2011! i kicked off mine with a blast!!! me and partner-in-crime, sha, went down to punggol for the countdown because taufik batisah was one of the performers. it's been a while since i saw the man live so i thought why not, right. and god i enjoyed myself so f much. taufik just blew me away- with his performances and just how
good
he looked.
(
read more.
Collapse
)
as for life itself since the last entry posted, i've been busy :) i wish it was with a boyfriend or for a wedding, lol, but no. it was with work. we recently moved office from Hill St to Mapletree Business City at Pasir Panjang. if there's one downside, it's a bit further away from home than it was from home to Hill St. but! the best thing is, the view from the 18th floor office is pretty nice. not scenic-ly nice with greenery but
(
the sea!
Collapse
)
ok, so maybe not the best of 'sea' pictures but you get the picture! i've been working at BW Maritime for almost two months now, but was recently given the oppurtunity to convert to a permanent staff, bless. ofkoz i took it! so tommorrow, the 3rd january, will be officially my first day as a perm staff. i hope things go as smoothly as it's been the past coupla months :)
i've been keeping myself updated with chelsea's matches too. before the 1-0 win over bolton, the previous results all got me wondering what really went wrong with chelsea. it's bad enough that i couldn't watch their match so yep. it was pretty depressing if you asked me.
i think that's about it thus far. 2010 has been eventful. i'm thankful for everything that happened and for the people i've met. i dare say, for a majority of 2010, i have been happier than i have ever been since primary school. as for 2011, i'm just gonna go with the flow because really, who actually does keep up with their resolutions? certainly not me.
happy new year. i wish you the best of health and lots of happiness. xo.
Feeling:
optimistic